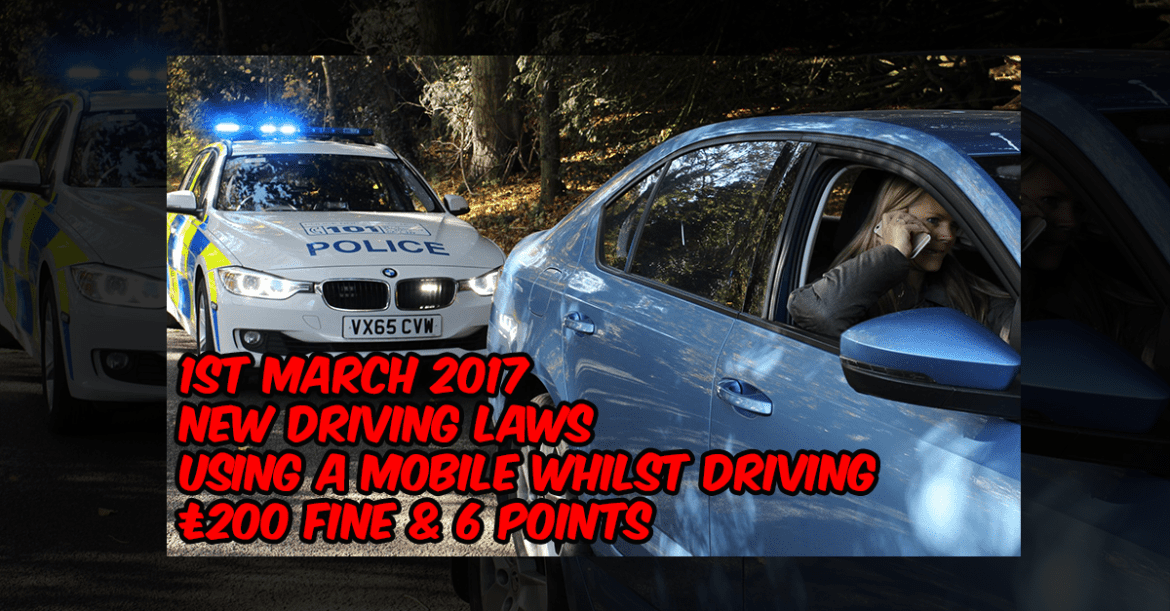 New Driving Laws – Using a Mobile whilst Driving in 2017
From the 1st March 2017 new rules laid out by the UK Government will be enforced by Police Forces in an attempt to curb the increased usage of mobile phones on our roads. The minister for Transport, Chris Grayling, said the use of mobile phones at the wheel was as socially unacceptable as drink or drug-driving. We all have a part to play in ensuring our family and friends do not use their phones while driving.
If you are caught using a mobile phone you can expect a fine of 6 points and a fine of £200.
If you have recently passed your test and within your first two years of driving you will automatically lose your licence and a re-take will be necessary
If you've been driving longer than 2 years, get caught twice and accrue 12 points you will automatically appear in court and face a fine of £1,000 and a driving ban of at least six months
There will be NO Verbal Warning and there will possibly be no option of a Driver's Awareness Course
Death by dangerous driving is now life imprisonment and no longer 14 years
SOME STATISTICS AROUND MOBILE USAGE AND DRIVING
Metropolitan police data shows that almost 20,000 notices involving potential fines and penalty points, retraining courses have been issued so far this year in the capital.*
The AA believes the problem is generational. A survey earlier this year showed that the average person swipes, taps and pinches their display about 2,617 times a day.*
The Dept for Transport said that of 88 deaths caused by distractions in 2012, 17 were because of mobile use – a higher death rate than other in-car causes. In 2014 this had risen to 21 fatal accidents and 22 in 2015*
Dorset Police carried out a week-long mobile phone enforcement campaign in January, issuing 91 fixed penalty notices to drivers for using a mobile phone at the wheel**
A report published by the RAC in September 2016 stated that 31 per cent of drivers now admit to using a mobile phone when driving, up from eight per cent in 2014**
ADVICE TO KEEP IT SIMPLE
✖ You CANNOT touch the phone if it's in a cradle, even if you stop at traffic lights or parked up with engine on
✖ If you're using a music app you CANNOT scroll through tracks using your mobile whilst driving. Set up a playlist before you start your journey
✖ You CANNOT use headphones to take a telephone call
✖ You CANNOT use the loud speaker on your mobile phone to take a telephone call
✖ You CANNOT move or touch your mobile phone while your engine is on
✔ If you're using a Sat Nav App on your mobile or plugging in a charger you must do this before you start the engine
✔ Your mobile can ONLY be used if you're parked up safely and the engine is off with your keys out of the ignition
✔ You can use a mobile via built in In-Car Technology such as Bluetooth but you can still be prosecuted if you're not in proper control of your vehicle. The penalties are same as being caught using a handheld phone.
✔ Keep your mobile in a Cradle or Glove Box
✔ If you call somebody and they are driving without handsfree, HANG UP
✔ If you are a passenger and the driver is driving without handsfree, tell them to HANG UP
✔ If you're an employer and you force your staff to use a phone without the appropriate handsfree system it can result in imprisonments and large fines
Sources:
**Dorset Police – Link TBC