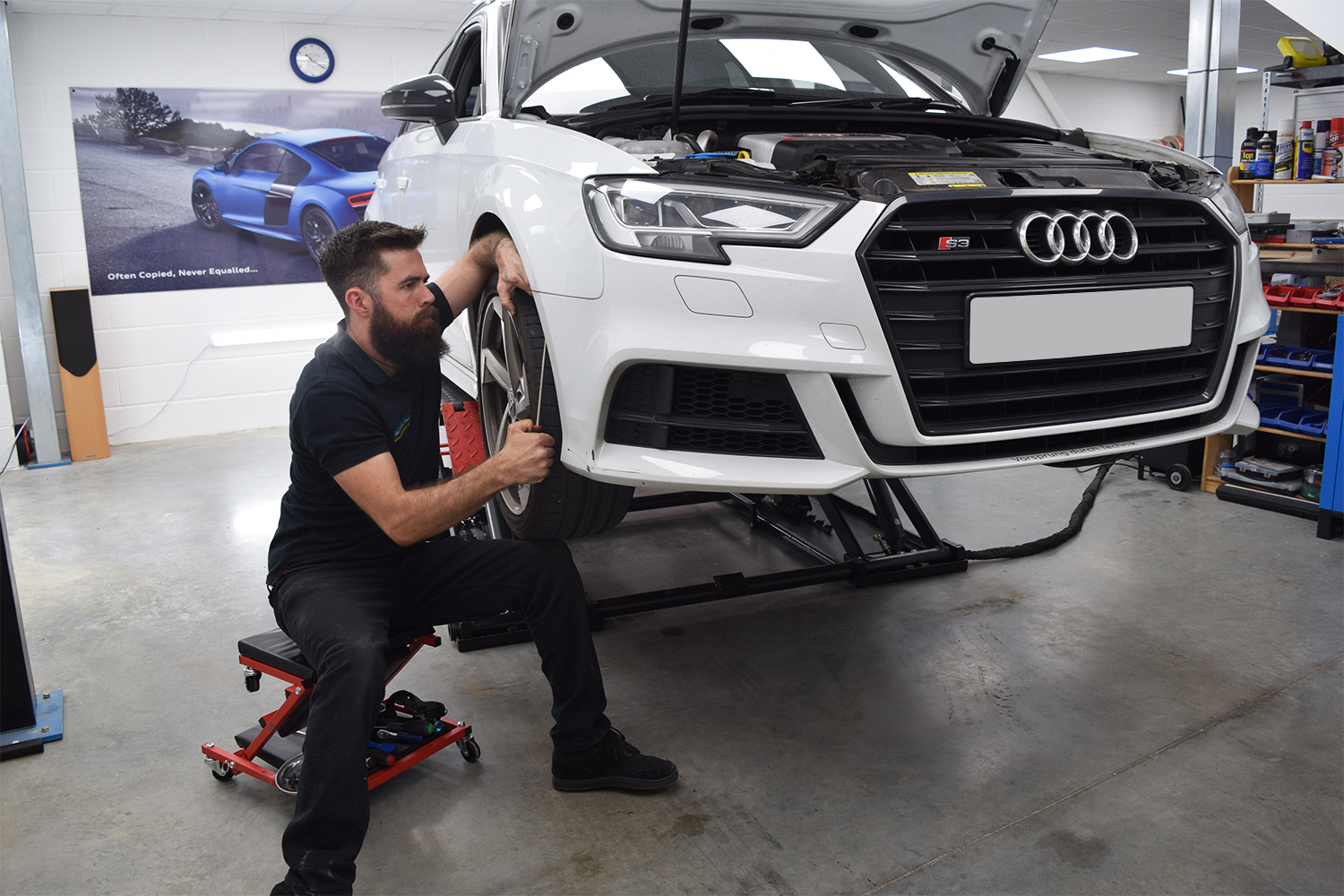 This part is what we're most proud of, our 5* Installation service! We're all about quality here and this is reflected in how we install the equipment to your vehicle. Attention to detail & meticulous planning ensure a perfect job.
We're proud of all of our engineers throughout the UK. All our Engineers at HQ are all emplyed by Advanced In-Car Technologies. All of our Nationwide engineers and workshops are all Sub-Contracted to ourselves but come with the gleaming badge of approval from Advanced In-Car Tech. We don't just find these guys from the Yellow Pages, it's old fashioned word of mouth. We've started them off small and worked them up towards the bigger and better retrofits like Cruise Control & full Optical Parking systems, offering training & technical support along the way.
INSTALLATION AT OUR HQ
Most of the time we'll always recommend that you come and visit us at our workshop here in Poole, Dorset if you're able to. A lot of Modern Day Vehicles need specialist installation or equipment that will need the vehicle to come and see us.
In every instance we'll take a small deposit to book your vehicle in and order the appropriate equipment. Once the equipment has arrived we will get in touch and fully book you into our diary.
On the day of the big event we'll complete a quick hand-over and walk-round your vehicle and then we'll get to work. Once everything is all installed we'll do a comprehensive hand-over and go through what we've done. When you're happy we'll take the final payment.
NATIONWIDE INSTALLATION
Our Nationwide Installation is more suited for the Smaller Installs such as Trackers and Dashcams. It's not smart or professional to be fitting things like Cameras or Sensors on your Driveway when you're open to the elements.
If you decide to go ahead with a Nationwide Install we've put together this handy guide for you to check out.
Having found the equipment or retrofit you want, get in touch with us regarding compatibility
We'll confirm that your vehicle will work correctly with the equipment you have chosen
We'll let you know the cost to Supply & Fit everything in your location
We'll then contact the nearest engineer that is suitable to do the work that is needed. It may well be that you will have to travel to one of their workshops depending on the work.
Once everything is confirmed we'll send you over the appropriate costs. Depending on the work needed we'll either ask for payment in full or a deposit and this can all be done via the website.
Once the payment has been received we will order the appropriate equipment for your vehicle.
When all the kit has arrived or ready to ship out, we will either send it to yourself to hand over to the engineer when he arrives or we'll send it direct to him. The larger installs may require him to prep the equipment before installing
A job-sheet will be sent to yourself and your engineer confirming all the dates, times and where the installation will be taking place.
Greet the engineer on the date and time agreed with a big cup of tea and a few biscuits ☺
As mentioned above, all of our engineers our sub-contracted to us and all come with their own independent liability insurance that will cover them in case of any issues arising.
Our normal installation booking in time is between 10 and 14 days depending on demand and location
In most instances we can come to your home or work address for the smaller installations (As long as you've got a suitable garage or driveway) (Sorry, we can't work at the roadside – it's not safe for our engineers!)
Based on what you want doing, we may advise it's not suitable to do the work at your location. In some instances, It's not professional to take apart your vehicle whilst it's blowing a gale or the possibility of the heavens opening. Much safer to do it in one of our workshops.
If you're located within Dorset, Hampshire and Wiltshire you'll be covered by our HQ Workshop in which case we'll need you to pop on down to us. We'll ply you with free tea and coffee though!
If we don't have a suitable engineer in your location don't fret! We can Supply you with all the correct equipment and you can then go to your local trusted independent garage or auto-electrician. There are loads of reputable independent VW or Audi garages out there!